The 5 Most Dangerous Professions: Do You Have the Balls?
You may be sitting behind a desk so long that you feel it is time for a change. Money may or may not be an issue but the need for injecting some excitement into your daily routine could mean you are ready for one of the many dangerous professions out there. Living and working on the edge creates character and man's you up when your hands have become soft along with your mind. Take a gander at these occupations.
1. Alaskan Fisherman
Feast your eyes on the ground zero of global warming and set up shop in Alaska. The reality series, 'Deadliest Catch' is no accident as this occupation has been recorded the number one most dangerous career in America.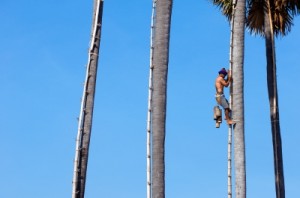 Death tolls, according to the Bureau for Labor Statistics, were approximately 200 full time employees in 2009 which is sixty times greater than the approximately 3 per 100,000 for the overall American worker. Yet, fishing in places like the Bering Sea is a real endorphin rush. So put down your laptop, hang up your loafers and go live on death's edge.
2. Loggers
Here's a career that is second on the list coming in at about 60 deaths per year with most guys getting wiped out in the month of July. It requires muscle and brains while working the advanced and sometimes crude machinery that takes a keen eye. However, it gets you deep into Mother Nature where a man's man should be.
3. Pilots and Flight Engineers
This industry recorded about fifty deaths per 100,000 in 2009. However, the thrill of flying or even working on an enormous aircraft is invigorating. Hell, look at Captain Sully, that he-man landed a loaded Airbus A320 in New York City's Hudson River saving the crew and 155 passengers. Now that's a career where the thrill outweighs the risk.
4. Farming and Ranching
Get your cowboy hat, chaps, chewing tobacco and high tail it to the Midwest. This occupation boasts about 38 deaths per 100,000 coming in at number four as one of the most dangerous jobs in America. It entails dealing with ornate livestock, heavy machinery and inclement weather like tornadoes and floods. It also offers another shot in the arm of Nature in all its glory. Go till the land and have a love affair with country living.
5. Iron and Steel Workers
It is no wonder this occupation makes five on the list with many of its members teetering daily at skyscraper heights. About 30 workers perish per year mostly by height challenged missteps. Besides the risk, this career reeks of testosterone. Just take a look at these men on the city streets at lunchtime, they look like the cast of Mad Max. It's like getting paid to belong to a gang.
So what are you waiting for? Take a year off and step into one of these dangerous professions. If you make it back unscathed you can wow some babe into bed with stories of black bear, leaping salmon and fellow workers who were drowned, maimed or killed.
Image Provided By: http://www.freedigitalphotos.net/images/view_photog.php?photogid=2026