The Do's and Don'ts when buying an Engagement Ring
You finally found someone willing to put up with your ridiculous self for the rest of your life. Now all you have to do is purchase a stone to make her do circus acts in the bedroom for a while. Unfortunately, you do not have a friend who is versed on the do's and don'ts when buying an engagement ring. Not to worry, here are some tips to hopefully get your tip wet.
Do Take Her Order, Don't Guess
Get used to it, she'll be ordering you around once that ring slips on so you might as well find out what she wants sparkling on her finger as she points. Does she want a round stone, oval stone, baguettes (little diamonds surrounding the big one), a gold or platinum setting? The last thing you want to do is go at it alone and have her give you that plastic, "It's nice" smile and then ask to exchange it three weeks later.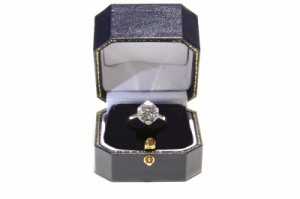 What's In Your Wallet? Don't Shop Without Knowing
You have to have a realistic financial goal when purchasing an engagement ring. If she is high maintenance and you are bringing in the ducats, count on the vicinity of upwards of fifteen, twenty, thirty-thousand or more to make her tail wag as she displays her shiny new paw to the discerning eyes of her friends and family. Otherwise, there are some perfectly acceptable choices in the five hundred to five thousand dollar range. Come up with a number and be sure to give yourself some wiggle room, especially if you take her shopping with you.
Do Not Forget the Credentials
Never buy a diamond without requesting a gem report. This is a gemologist's professional rating which includes:
• The carat(s)
• Weight
• Size
• Measurements
• Color and clarity evaluation with suitable stones ranking no less than the letter grade 'I'
• FL – Flawless
• VS1 or VS2 – Very slight inclusions with either one being an acceptable stone
Contact the Gemological Institute of America if you have any questions or concerns. FYI, Tiffany and Co. offers a diamond certificate that is within approximately .02 millimeters in accuracy.
Do Your Metals Right
Platinum is more resistant to wear and tear with more prong strength (uh, uh he said prong strength). It can cost up to six or seven hundred dollars more than gold but will be well worth it. Stay away from yellow gold as it is cheaper looking than most and white gold may be too soft especially if your bride decides to go rock climbing with it on.
Don't Neglect Insurance
You are going to spend crazy money on a trinket that cost as much as a car, insure it dopey.
These are just few of the do's and don'ts when buying an engagement ring. If you do more do's your bride will glow from ear to ear and you will be the hero.
Image Provided By: http://www.freedigitalphotos.net/images/view_photog.php?photogid=330