3 Bachelor Party Ideas: Mild to Wild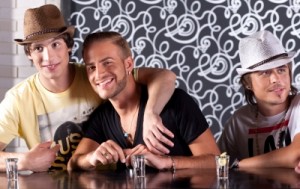 As you get ready to clamp your junk into a vice for the rest of your life you better make sure your best man comes up with at least 3 bachelor party ideas to make it worth your while. The optimal approach is to communicate with your bud on exactly how you want it to go down. Expecting to be surprised can lead to your potential vomit induced asphyxiation and one of many sexually transmitted diseases. Be clear on your comfort level regarding whether you want vaginas in your face or a more sober, non-stripper approach. It is a slippery slope that can have you standing tall at the altar or cancelling the caterer, your choice.
1. Easy Does It
Celebrating your upcoming nuptials with your pals can be an excuse to kick back and live the life for a day or more. Depending on your funds you can set up a golf or paintball outing locally or in another state. Try Hilton Head, S.C. for awesome golf or Albrightsville, Pennsylvania for  paintball (Skirmish U.S.A. here is rated the best in the country). Pick out some local restaurants and enjoy time together in an upscale, gentlemanly setting. Some additional tame ideas are:
• Take a winery tour
• Bungee jump
• Sky dive
• Go-Kart racing
2. Kick it Up a Notch
Take a road trip and go skiing or camping. Chances are once the wife has her claws in you and the little midgets begin to pop out, you will not have time to do the things you love on a regular basis. So, pick out a nearby spot that you can ski, canoe, whitewater raft, hike or fish like the cavemen you really are. Bring plenty of mind altering party favors, music, Frisbees, gloves and ball or fireworks for nighttime ridiculousness.
3. Deviate, Inebriate and Panty Skate
Okay, well here's your usual bachelor party debauchery. Get a hotel room and lots of liquor (or other happy additions). Find a local 'escort' service and hire the hottest women you can afford. Ask what they will be doing to entertain the guests and agree on a price. Be sure and ask if there are any additional costs on site that have not been covered (escorts are notorious for ratcheting up the price in front of their no neck, seven foot, gun toting chaperone). When they arrive ask them again. Some offered services include:
• Lap dances
• Vaginal ping pong ball shooting (bring a Whiffle ball bat!)
• Vibrator sitting while the groom holds one end in his mouth
• Lesbian show
• Back room sex (this is illegal, you've been warned)
Whatever you choose to do amongst the 3 bachelor party ideas above, try to stay semi-sober and awake to remember the good times with friends on your last days as a single man. Then go home, pack your balls in a nice box, put a bow on it and hand it over to the Mrs. to be.
Image provided by: http://www.freedigitalphotos.net/images/view_photog.php?photogid=2125