Stop Your Bellyaching and Move to the Top 3 U.S. Cities to Meet Single Women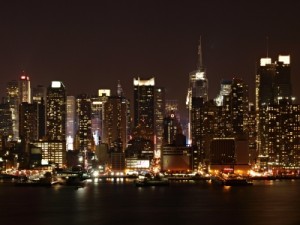 Ever wonder why there are the same sad-eyed, overly made up, worn women bellied up at your local pub? Ever wonder why you are contemplating a lifelike blow up doll? Well, this may mean you need to move to one of the top 3 U.S. cities to meet single women. Pack up your crap, change jobs, buy a plane ticket, get an apartment and start your urban T and A hunt. Many metropolitan centers attract single women so it is best to break it down to what will work best for you.
1. New York City (Manhattan): If You Have the Funds there's Plenty of Buns
According to a '08 study Boston Globe 1, single women in NYC outnumbered single men by approximately 210,000. Women come to NYC searching for a husband and/or to hold onto their career. It is a walking city so instead of being stuck in a car you are bound to run into someone compatible. There are all sorts of single women here including the upscale office worker type, artsy village type or the woman-in-heat at the dance club type. The melting pot demographic includes a smorgasbord of African American, Jewish, Italian, Irish, Asian, Indian, Russian and Latin women just to name a few. If you have the rap, the wallet and the stomach for a dizzyingly fast and furious lifestyle, New York City is for you.
2. Raleigh, N.C.: Snag an Educated Sweetie
This city should attract the fella looking for a good solid catch. With its southern charm yet clean, metropolitan scene you can effortlessly shag through a list of highly educated, well bred prospects with an easy chance of landing a 'take home to mom' prize. Take a gander at these stats reported by journalist Julie Turkewitz: • Single population is 10% higher than the national average. • 20% more single women hold a bachelor's degree than the average city dweller. • Great Date Spots: Glenwood Ave., Velvet Cloak Inn, Sushi Blues Café and Artspace. • Surrounded by fantastic natural settings for outdoor sexcapades.
3. New Orleans, Louisiana: It is Vegas with Mardi Gras
Okay so this city has taken its lumps over the years but in a 2009 Travel and Leisure poll it was ranked number one for its singles bar scene, cocktail hour setting, cafes, restaurants, live music and spring break destination. Mardi Gras and the Jazz Festival keeps the place hopping twenty-four-seven, plus the re-building projects have made it affordable for a young adult demographic to survive and play here.
These top 3 U.S. cities to meet single women are a good start as you whittle away at what you are specifically seeking. Other cities such as Los Angeles, California; El Paso, Texas and Miami, Florida rank high in the available single woman category as well. So move out of your Ted Kaczynski cabin, shave your long, man beard and get back in the race.
Image provided by: http://www.freedigitalphotos.net/images/view_photog.php?photogid=915