Techniques For Delaying Orgasm During Sex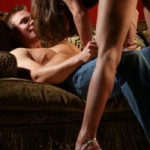 If P.E. is an issue for you, I would recommend using a condom every time you have sex.  There are great condoms on the market that can lighten the sensation during sex, and you should be using these condoms.  You can find them all over the web, or you can head to your local drugstore to find them as well.  As you get better and better and delaying your orgasm, try having sex without a condom and see what happens.  At this point, you should still be able to last much longer than you were in the past.
I also recommend that you start off in a position where you can last the longest.  It might not be as exciting, but you need to start gaining control of your arousal, and you will gain confidence as well because you will be lasting longer and longer in this position, which will allow you to move on to the next position.
Remember to slow down your thrusts, or even stop for a few seconds, 15 seconds or so before you feel like you are going to have the urge to ejaculate. Keeping mentally tough is going to be hard.  I found that sometimes baby steps need to be taken.  When I was first practicing everything during sex, I had my partner sit on top of me.  Instead of trying to get way into it, which would always get me too excited, she would just sit on me and move very slowly.
The two of us would try and have a normal conversation, and at times communicate about how both of us were feeling on an arousal level.  This kept me very relaxed.  If I was lasting, she would increase her movement until I started to get to a higher arousal level.  At that point, she would slow down and we would have a conversation again, which would again relax me and allow my arousal level to go back down.  I suggest that you try this.
Communication with your partner is key, and she needs to be supportive.  If you are single (not having sex with the same woman more than once) and having sex with different women frequently, then you might need to do more things on your own, without talking to her about it.
Talking openly about P.E. to a woman was the hardest thing to do for me.  I didn't feel masculine about it at all.  However, I quickly realized that it made things a hell of a lot easier in the long run, once I got past the initial embarrassment.

Also remember that you can try any of these techniques in any order or frequency that you like.  Everyone is going to like certain methods better.  You need to experiment and find out what works best for you.
There is a technique that I use frequently that works very well, and you need to try it.
When you're having sex, you're generally doing the in and out motion in missionary or doggy, and she is going up and down when she is on top.  When you start realizing that your arousal level is getting higher, stop the thrusting motion.  Remember, this should be well before you actually think you are going to have an orgasm.
When the thrusting stops, insert your penis as far as you can, begin to move side to side or up and down, without pulling your penis out too far.  This will significantly lower your arousal level, and it will still feel good to her.  If you want, keep your penis inside of her without moving it at all.  You can still kiss her or touch her, but you are letting your arousal level drop a bit.  Don't be afraid to do this for as long as you need, whether it is 5 seconds or 1 minute.  The important thing is to not ejaculate and let your arousal level go back down.
If she is on top, have her just move around your penis without going up and down.  This will accomplish similar results for you.
So, you can constantly go back and forth.  Thrust a few, then rest inside with little or no motion. Thrust again, then rest.  The deeper you stay during sex, the less stimulation you will have.  Many women get more pleasure having sex like this anyway.  You can really stimulate the g-spot this way.  It's the "motion of the ocean" comes to mind. Another technique that you can use during sex, is to change positions frequently.  What I really love about this, even when I was struggling with curing my P.E., was that I felt very dominant, and women respond to that.
To women, you appear confident and in control when you are initiating new and exciting positions, even if you don't feel that way.  When it comes down to it, this is what women want.  Women want a man that is in control and confident, both in life and in the bedroom.
Changing positions also allows you to lower your arousal level a bit.  If you are on top, and feel like you're getting too excited, pull out, rest a few seconds, and then put her into the doggy position or whatever.  From there, try putting her on top.  Changing positions allows you to rest for a few seconds.  She will think that you are exciting, dominant, and fun by switching positions so frequently.  Little does she know that you are just trying to delay your orgasm.
There are also ways of completely stopping sex, getting re-charged, and then having sex again.
When you are starting to reach high arousal levels, slowly pull out.  At that point, you can start kissing her entire body, or even start performing oral sex.  You will be able to regain control, but at the same time keeping her pleased sexually.  After a bit, begin to have sex again.
Women really like teasing, so this one can be great to exaggerate.  Once you pull out for a bit, do your thing, and then go back inside of her, immediately pull back out.  Repeat the process a few times.  This will drive her wild!  But, the best part is the fact that you will be able to literally rest for 5-10 minutes if you want!  It works great.  It can be done in any position too.  If you are in doggy, pull out and start giving her a back massage.  When you go back in, pull out again and massage her neck this time.
Now, when you put it all together, you can combine every one of these techniques.  For example, you can start on bottom and have a normal conversation.  This sort of acts like teasing too if you take control of it.  She will think that you are just having fun.
When you notice that your arousal level is getting too high, penetrate deep and give very little movement.  At that point, start thrusting again.  As arousal gets higher, pull out completely and use a distraction technique.  Kiss her body, rub her back, or give her oral sex.  At that point, change positions and enter her deeply again.  You get the picture.
If you are giving her the vibe that you are in complete control, then she is going to love it.  All of these techniques will send this message.  And, with time, you will get better and better at lasting in different positions using different techniques.
As even more time passes, you will be able to abandon some of the exercises and methods because you will gain more and more confidence in yourself and your abilities.  Your confidence will sky rocket, and you will become the ultimate lover.  And remember, if things ever start to slip again, you can always go back and start from square one.